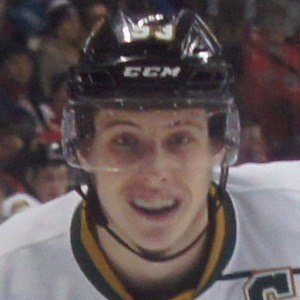 Mitchell Marner was born on May the 5th 1997 to Paul and Bonnie Marner in Markham, Ontario. Mitch grew up in Thornhill, Ontario with his older brother Christopher. He began his minor hockey career in the Greater Toronto Hockey League(GTHL) and in the Durham region. In 2011/2012 he played for the Vaughan Kings going on to win the GTHL title.
Growing up, Mitch was a huge Toronto Maple Leaf fan, while his two favorite NHL players were Patrick Kane of the Chicago Blackhawks and Sydney Crosby from the Pittsburgh Penguins.
During the 2012/2013 season Mitch played for the Don Mills Flyers of the GTHL where he produced and impressive 86 points in 55 games playing his minor midget year. Mitch finished second in scoring to Dylan Strome and was invited to play for the St. Michael's Buzzers of the Ontario junior 'A" league and managed to win a championship there.
In his minor midget season, Mitch was unsure of his future plans and had to decide between a scholarship offer from the University of Michigan and playing fo the Wolverines ,while being drafted 19th overall by the OHL London Knights.Mitch choose the OHL and the Mark Hunter owned London Knights. He managed OHL rookie of the year runner up with 59 points in 64 games that year.
During the 2014/2015 season Mitch was ranked as one of the top prospects for the 2015 NHL draft while playing very strongly in conjunction with his linemate Max Domi, son of former Leaf enforcer Tie Domi. Mitch lead the OHL in scoring for most of the season but lost out to Dylan Strome from the Erie Otters when Dylan scored six points in the last game of the season, jumping past Marner who then finished second in scoring overall.
Mitch played a huge role during the London Knights 2016 playoff run helping his team win the Memorial cup where he led the playoff scoring with a whooping 44 points in 18 playoff games as was given the Wayne Gretzky 99 award for being playoff MVP that year. He also received the Stafford Smythe Memorial trophy and Ed Chynoweth Trophy to boot.He also was awarded the Jim Mahon memorial trophy as the OHL's top scoring right winger.
As a result, Mark Hunter, now head scout for the Toronto Maple Leafs drafted Mitch 4th overall in the loaded 2015 Connor McDavid NHL draft.This fulfilled a dream of Mitch's to play for his hometeam.During the draft, star center and number overall pick Connor McDavid, walked upto Mitch and said " You are so lucky!" While the draft was loaded with talent, Hunter was convinced he had taken the second most skilled player in the draft ahead of notable defensemen Noah Hanifin, Zach Werenski and Ivan Provorov.Rumour is Toronto was looking to trade down, luckily that never materialized. Mark Hunter looked very nervous as he stepped to the microphone and announced the Toronto Maple Leafs would be taking Mitch fourth overall that year.On July 18th 2015, Mitch Marner signed a 3 year entry level contract with the Leafs and never looked back.
Marner's NHL career begins.
Mitch had an outstanding training camp and pre season and the Toronto Maple Leafs quickly decided, after he led the team with 4 assists, he would be staying with the big team to start the 2016/2017 NHL season on October 12. Mitch played well with 6 shots on net that night only to be overshadowed by Auston Mathew's record 4 goal debut .However, in the next game playing on Hockey Night in Canada , Mitch scored his first NHL goal, while getting his first career assist four days later.
While paying against the Florida Panthers, October 27, 2016, Mitch got his first multi-point game, managing three assists to help the Maple Leafs to a 4–2 victory. Mitch got his first multi-goal game on November 3, 2016 helping Toronto edge the Buffalo Sabres 2 to 1. On November 15, 2016, Mitch had three points against the Nashville Predators for a 6–2 win.For the first time in his NHL career Mitch was tied for the lead in scoring on the Leafs with winger James Van Riemsdyk.
On January 2017 Mitch had 11 assists and 4 goals for 15 points in 13 games and won the NHL's Rookie of the month.The Leafs were the first team to have 3 rookie's of the month in one season.
Mitch wasn't done as he broke the record held for 73 years by Gus Bodnar and got 42 assists. Mitch finished the season with 61 points while playing alongside Center Tyler Bozak and winger James Van Riemsdyk.
The Leafs became the first team since the 1981 Quebec Nordiques to have 3 rookies(Marner,Mathews,Nylander) all finish with 60 points or more.With the help of Mitch, the Toronto Maple Leafs qualified for the 2017 Stanley Cup playoffs
where he scored his first playoff goal on his first shift of Game 1. Mitch went on to record four points in a tough fought series against the top seeded Washington Capitals losing out in in six games. After the series Cap's players were quoted as saying
" They gave us everything they had! "
On December 19, 2017 Mitch ended a 15-game goal drought to record his first four-point game. Mitch got 3 assists with one goal to help Toronto crush the Carolina Hurricanes 8 to 1 that night. Then on February 10, 2018, Mitch had his first five-point game , getting two goals and three assists and become the first Maple Leafs player to record five points in a game since defenseman Thomas Kaberle did so in 2009.
Mitch finished the regular season leading the Maple Leafs in both assists and points, while setting career highs for goals, assists and points. Mitch helped the Maple Leafs to their second consecutive Stanley Cup playoffs appearance. In the 2018 Stanley Cup playoffs Mitch was the first Maple Leafs player, since star defenseman Brian Leetch, to record a five-game point streak during the Stanley Cup playoffs. Mitch went on to score and lead the Maple Leafs in scoring with 9 points before they were eliminated by the Boston Bruins in 7 games.Many Bruin players and their fans took note of Mitch and his fine play that year.
- October 9, 2018, against the Dallas Stars Mitch records a four-point game (one goal and three assists)
- On October 27, Mitch records his 100th career assist on a game-tying goal .
- Mitch records 22 primary assists in his first 24 games, a record only surpassed in the last 20 years by superstar Mario Lemieux.
-January 3, Mitch ties a Toronto Maple Leaf record for fastest goal to start a game by scoring seven seconds into a game
.
- January 17, 2019, Mitch becomes the first Maple Leaf ever to start his career with 3 consecutive 60 point seasons.
- February 23, 2019
Mitch records two assists to give him his 200th point of his NHL career.
He finishes the regular NHL season by leading the team in scoring and is also third in the NHL with assists while having a career-high 26 goals, 68 assists and totalling 94 points making him the first Maple Leaf , since Mats Sundin in 1997, to score at least 90 points in a season.
On September 13, 2019, Mitch Marner and the Toronto Maple Leafs signed a six-year, $65.358 million contract bringing great relief to the fans , management and the player himself. " I wanted to be in camp with my teammates."
International career play.
Mitch has played internationally for Canada and made his debut at the 2014 Ivan Hlinka Memorial tournament winning a gold medal there.Marner managed to tie Mathew Barzal as the leading scorer for Canada.
During the 2016 IIHF Junior Championships held in Helsinki, Finland both he and Dylan Strome each led Canada with four goals and 2 assists in 5 games.Team Canada managed to reach the quarterfinals where Marner scored twice before Canada lost to the gold finalists.
At the 2017 IIHF World Championships Marner made his senior Canada team debut , where team Canada won silver. Mitch scored 12 points in 10 games and placed in the top ten in scoring ,second to Nathan MacKinnon for team scoring.
Mitch and his girlfriend Stephanie LaChance.
On the latest strange story from Leaf land Mitch is now reporting some very strange behaviour from former Leaf coach Mike Babcock. As the story goes Babcock asked Mitch as a rookie to make a list of the hardest to least hardest working players on the team. Mitch wanting to make his coach happy obliged. Babcock then read the list of least hard working players out to the team. The rumours are now surging that the youngsters held out for higher money to put up with playing for Babcock.Only in Leaf land folks.
www.theleafswinthecup.com