Chart climber : Ian Scott as of October 20 2018 is 10-1-1 with .942 save percentage.A good sign as the Marlies clearly need a goalie for next year. Ian Scott has made the Team Canada world juniors and the Leafs have signed him to a 3 year entry level contract.Ian Scott is the talk of the underground and many think Toronto has landed a Goal stud from the 4th round.Update :December 2018. Scott has made the Canada world juniors and will be fighting with Carter Hart for the number one job.
Updated as of July 23rd 2018. According to a recent fan poll on HFboards the voting produced this current top 20 Maple Leaf prospects.
Rankings:
1. Timothy Liljegren -- 78.7%
2. Andreas Johnsson -- 86.2%
3. Carl Grundstrom -- 49.6% (traded to L.A for J. Muzzin)
4. Rasmus Sandin -- 86.2% (Recent first rounder 2018)
From TSN:
Pick 29: Rasmus Sandin, D, Sault Ste. Marie Greyhounds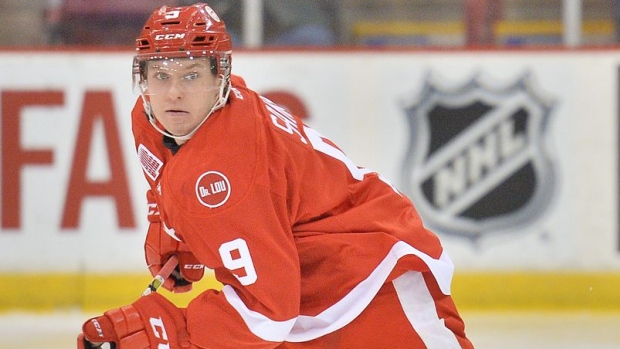 There was plenty to glean from Dubas about Sandin's game and his immediate future when he was
drafted on Friday night.
But Sandin also has a unique history with the number one overall pick in this year's draft, his countryman Rasmus Dahlin. Both are defencemen by trade, but played a few shifts together at forward as 10 year olds for Team Sweden at the World Selects Under-13 Invitational in 2012-13. Dahlin was at centre, with Sandin acting as his right wing. By age 11, Sandin had committed to the blueline and never looked back. And should he return to Rogle BK in Sweden, which Sandin stated on Friday was his intention next season, he'll have an opportunity to skate once again beside his brother Linus, also a Rogle product.
Sandin may not be flashy, but boasts a high-end hockey IQ with good mobility and a playmaker's flare for putting the puck in just the right spot to make something happen offensively. All that makes Sandin a natural quarterback on the power play, and as he adds strength and weight to his 5-foot-11 frame, Sandin's skill set will continue to shine through.

As of November 28th 2018 Sandin is playing with the Toronto Marlies with some impact. 3 Goals in 9 games already. Impressive for an 18 year old defenseman. December 12th. Sandin has been impressive and now has 10 points in 18 games with the Marlies as a rookie.



5. Sean Durzi -- 26.8% (Recent 2nd rounder 2018) From TSN ( Traded to L.A for J. Muzzin)
P
ick 52: Sean Durzi, D, Owen Sound Attack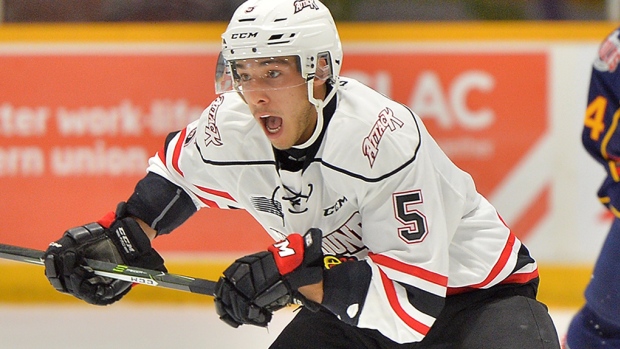 * Apparently Dubas wanted Durzi last year and he went on to have a huge year.

An overager in the OHL last season after he was passed over by all 31 teams in the 2017 draft, Durzi said on Saturday that rejection ended up being a blessing in disguise. He was at United Center in Chicago last June, one year removed from an ankle surgery that slowed his production during that first draft season to 38 points (two goals, 36 assists) in 60 games. Still, at least one scout said on Saturday he had been a little surprised when Durzi went undrafted, and thought the Leafs were smart to jump on him early in the second round.
When his previous draft plans didn't pan out, the right-shot defenceman attended Leafs' development camp last spring and made a big enough impact on management they considered giving him a contract, but were maxed out at 50 deals. So Durzi took what lessons the Leafs offered and returned to the Attack for a third season, his best to date. In 40 games, Durzi put up 49 points (15 goals, 34 assists) while re-vamping his entire lifestyle off the ice.
"He has really transformed the way he lives day in and day out," said Dubas. "Not that there was anything wrong with how he was living before, but he was a teenager before and now he monitors everything that goes into his body, he's meticulous with his habits, and he's become a pro in that last year."
Dubas cited Durzi's improved foot speed, play making ability and how well he defended against the OHL's best forwards last season as reasons they took him off the board. The Leafs also appreciated Durzi sense of what he needs to work on going forward. It was an added bonus for Durzi that the Leafs were so interested and also happened to be his favourite team growing up. Born and raised in Mississauga, Durzi loved watching Brian McCabe and hopes to make a mark of his own on the organization one day.
"[I was] one of the biggest Leafs fans I'd say," he remarked. "It's been a thing in my family for generations. This is a dream come true."
6. Jeremy Bracco -- 31.3%
7. Yegor Korshkov -- 40.1%
8. Calle Rosen -- 36.8%
9. Pierre Engvall -- 34.6%
10. Joseph Woll -- 30.5%
11. Eemeli Rasanen -- 37.5%
12. Igor Ozhiganov -- 23.2% (Coming over this year from Russia)
At 6ft 2 inches and 210 lbs Igor has size and skates well for a big man.

H

e doesn't shy away from the rough stu

ff and is said to have a big shot.He has signed a one year contract similar to the one Zaitsev signed. Let's hope he can make the jump.
13. Semyon Der-Arunitsev -- 26.3% (Recent 3rd rounder 2018)
From TSN
Round 3, Pick 76: Semyon Der-Arguchintsev, C, Peterborough Petes
The youngest player in the 2018 draft (his birthday is September 15, 2000, the cut off to be eligible for the 2018 draft), Der-Arguchintsev looks the part of a 17-year-old with plenty of room to develop. At 5-foot-10, 159 pounds, it's not surprising Der-Arguchintsev cites Mitch Marner, also undersized when he was drafted, as a player he admires. But all that being said, the Leafs like his potential. Over two seasons with the Petes, Der-Arguchintsev was more playmaker than scorer, putting up 80 points in 131 games. Like Marner, Der-Arguchintsev (known as "Sammy" to his teammates) has a tendency to pass up open shots to make a pass, even after ably shifting through traffic and creating prime chances. As Der-Arguchintsev progresses through his junior career, adding the strength and size (he's hoping to still grow a little taller, too) needed to play against men is near the top of his to-do list
.
14. Dmytro Timashov -- 32.3%
15. Filip Kral -- 29.3% From TSN
Round 5, Pick 149: Filip Kral, D, Spokane Chiefs
Kral played his first season of professional hockey as a 17-year-old in his native Czech Republic, and adapted quickly to the North American game when he joined the Chiefs last year in a 35-point campaign (which led all WHL rookie defencemen). A strong skater already with good acceleration, Kral is a mobile defenceman with solid awareness through the neutral zone to make plays offensively. One scout cites Kral's lack of physicality as an area to improve on, as well as his tendency to throw pucks into the wrong place when he's pressured. His limited experience in North America may have hurt Kral's draft stock with some teams, but if his development continues on its current trajectory he could be a great value pick for Toronto.
16. Fedor Gordeev -- 29.7%
17. Adam Brooks -- 29.7%
18. Trevor Moore -- 37.9%
19. Riley Stotts -- 26.3% ++++ > ( 2018 draft)
Round 3, Pick 83: Riley Stotts, C, Calgary Hitmen From TSN
A trade doesn't always end up being the best possible outcome for a young hockey player. But for Stotts, being dealt from the Swift Current Broncos to the Hitmen last season helped shine a light right on him. After a successful rookie campaign with the Broncos in 2016-17, Stotts saw his playing time slip the following year when Swift Current loaded up on talent to chase a championship. Posting just three points in his first 22 games of 2017-18, Stotts was traded to the younger, less experience Hitmen, and carved out a big role and tallied 41 points in the season's remaining 47 games.
Like many mid-round players, Stotts doesn't show a high aptitude in one aspect of his game just yet, but is proficient in size, mobility and stickhandling. But Stotts also comes with a reputation for being hard working, dependable and smart with the puck. It all makes him potentially easy to mold into the Leafs system down the road.
20. Jesper Lindgren -- 26.9% (tie)
20. Mason Marchment - - 26.9% (tie)
A second opinion. According to the Sporting

N

ews we have the 16th overall prospect pool. Note the slight difference in their list.
Sporting News Opinion.
Top 10 Maple Leaf prospects:
PROSPECT
| | | | |
| --- | --- | --- | --- |
| | POSITION | 2018-19 TEAM (Proj.) | ACQUIRED |
| 1. Tim Liljegren | RHD | Toronto (NHL) | 1st/2017 |
| 2. Rasmus Sandin | LHD | Sault Ste. Marie (OHL) | 1st/2018 |
| 3. Andreas Johnsson | LW | Toronto (NHL) | 7th/2013 |
| 4. Yegor Korshkov | LW | Yaroslavl (KHL) | 2nd/2016 |
| 5. Carl Grundstrom | LW | Toronto (AHL) | 2nd/2016 |
| 6. Pierre Engvall | LW | Toronto (AHL) | 7th/2014 |
| 7. Sean Durzi | RHD | Owen Sound (OHL) | 2nd/2018 |
| 8. Jeremy Bracco | RW | Toronto (AHL) | 2nd/2015 |
| 9. Dmytro Timashov | LW | Toronto (AHL) | 5th/2015 |
| 10. Filip Kral | LHD | Spokane (WHL) | 5th/2018 |
2017/2018 Season.
With the Toronto Maple Leafs firmly entrenched in the playoffs and with about 20 odd games,a quarter of the season left, it is time to look forward to the 2018 draft this summer. Despite the Toronto Maple Leafs sending a flurry of prospects into the NHL lineup over the last two seasons, the Toronto Marlies are one of the best teams this year in the American Hockey League . Some of Toronto's very promising prospects aren't even in North America yet with Yegor Korshkov, a big 6ft 4 inch, 225 lb winger in the KHL(Russia) who can skate and Winger Carl Grundstrom playing over in the SHL(Sweden). Former first rounder Kasperi Kapanen looks to finally have cracked the big leagues at the age of 21 for good and as such will be removed from this list.
Times have really changed in Toronto as their drafting and acquiring and retaining of picks has drastically improved.In fact the Leafs had four 2nd round picks in 2015/2016. The Toronto Marlies are now a development team where prospects are given the best mentoring money can buy while they mature and gain much needed experience under the watchful eye of Sheldon Keefe and his staff. No doubt it is a distinct plus having the Marlies farmteam in their backyard and allowing Leaf management i.e Brendan Shanahan, Lou Lamorello and Kyle Dubas to watch and monitor very closely. The top prospect for the Toronto Maple Leafs is the 17th pick from last year's draft. The grading system is simply the calibre of player by position in the draft. The better the player and lower the round of the pick the higher the grade. For example a Weber or Subban type player at 2nd round is an A+.
Too see recent highlights of Timothy Liljegren Click
https://www.youtube.com/watch?v=Z_4SssOp96w
1) Timothy Liljegren. Last year prior to the draft, Liljegren was considered by many as a potential top 3 overall pick. But then, in his draft year, he got a case of mono and was then bumped around from team to team and coach to coach in Sweden making some question his overall hockey sense / Iq. He started this year in North America polishing his defensive skills against men in the American Hockey League. It showed at this year's World Junior Tournament where Liljegren was a top 3 minute defenseman on the silver winning Team Sweden, which lost in the finals to Team Canada. He played well by all accounts. On the Toronto Marlies his current stats mask his elite skills and skating and thus his offensive potential. He may crack the Leaf lineup next year, if only for an audition but he is likely 2 seasons away and could be a Swedish Reilly type down the line. This kid has major potential and is highly likely a future top 4 defenseman for the Maple Leafs.
Grade A- :
A steal at 17th in a weak draft. " He(Liljegren) has elite, elite, elite skills ." - Mike Babcock.
That is a lot of elites!
" He was a no brainer at 17th.." - Hunter at the 2017 NHL draft.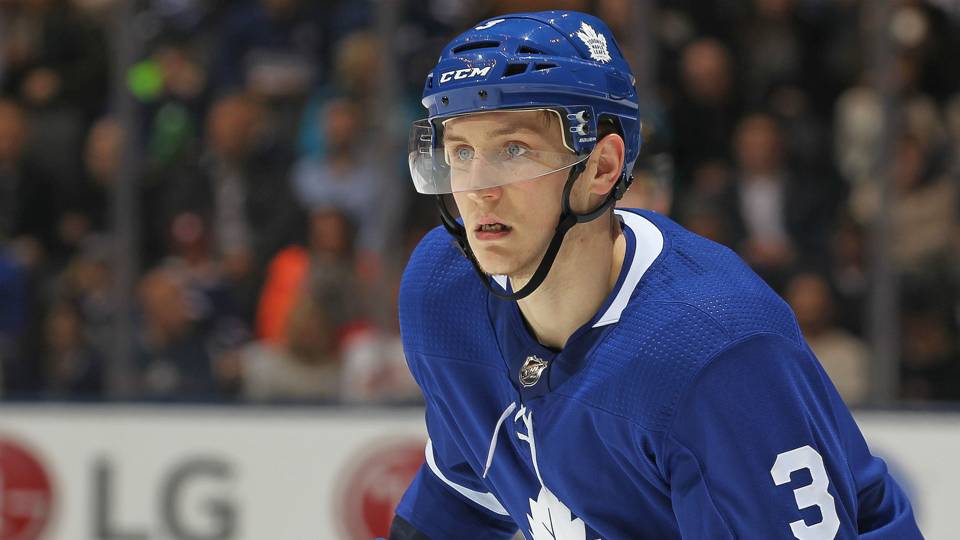 Travis Dermott's first goal with Dad present.
https://www.youtube.com/watch?v=Z5EGhv-ASPw
2) Travis Dermott is a Leaf 2nd rounder who was taken in 2015. Dermott has emerged as not only the best young defender in the American Hockey League but is playing with the Toronto Maple Leafs currently and looks very good indeed. Most see him as a future top 4 defenseman who can skate, carry the puck, hit, play defense and add a little offensive ability from the backend. One of Hunter's best picks so far by position.
Grade B+.
He may not be a Subban or Weber calibre but a top 4 Defenseman in the 2nd round of the draft isn't easy to find. Hunter took a big risk trading the Konency pick to the Philadelphia Flyers for two 2nd rounders. Toronto had a greater need for a top 4 defenseman.
3) Andreas Johnson came all the way from the 7th round back in 2013, a former Brian Burke pick. Johnson, a winger , is leading the AHL Toronto Marlies in scoring and may be the 2nd coming of Connor Brown. He isn't big but he is tenacious enough has the ability to score, kills penalties and is definitely a skilled winger, something Toronto now has almost in embarrassing abundance. He will be good enough for the NHL next year but where Toronto fits him is anyone's guess right now. It won't be in Leivo's press box seat. Johnsson scored his first NHL goal March 18th 2018 versus Montreal in his second NHL game.
Grade A+ :
How do you complain about a 7th rounder? Looks to be a skilled top 9 forward for years.
https://www.youtube.com/watch?v=hzUvDF9r_gM
4) Carl Grundstrom is another 2nd round winger and is still playing over in Sweden. Grundstrom's game is quite physical and engaging. He can be a hound for the puck . He has good size and skating while also knowing how to put the puck in the net. He is exactly what the Leafs will need in the future but expect him to start next year with the AHL Toronto Marlies and perhaps fight his way into a stacked NHL lineup by 2019 season's end. I see him in the future, as a good top 9 forward and feel confident saying that. He looks like he could be a good fit to play with Mathews due to his style and shot.
Grade B :
Just what we need ? Could push for Hyman or Brown's jobs in the future.
https://www.youtube.com/watch?v=tULqgMTRpkI
5) Yegor Korshkov is currently playing in the KHL(Russia) getting some big minutes in. He is a massive 6ft 4 inch 225 lb winger with skill and skating ability. He is slated to come to North America next year in 2019 and will likely play with the Toronto Marlies in the AHL learning the North American style and rink size. He could replace JVR but that is not likely to be by next year.
Grade B - :
Haven't seen him enough but getting decent reports on him so far. A strange pick at the draft as he had been passed over in the 2 drafts prior and was taken at age 20.
https://www.youtube.com/watch?v=cAboQukUWQE
6) Eemli Rasanen is a giant 6 feet 7 inch, 209 pound defender playing for the Kingston Frontenacs in the Ontario Hockey League. He is a hitting and block the lanes with his insane reach type of defender. He is of Finnish descent with a great shot from the point and can run a power play. It is said Rasanen hits harder than his considerable shot. Like anyone that size at 18, he has some skating to work on as he grows into his frame and matures and learns to co ordinate his large frame at a higher level. Another Hunter 2nd rounder in 2017, he is a project drawing comparisons to gulp... Chris Pronger. Even if Rasanen becomes a 5/6th defender at the National Hockey League level the Leafs win. He is likely 2 or 3 years away but Toronto can now send him to the Marlies confident he will be getting the best grooming money can buy.
Grade B +.
Almost the last guy in the 2nd round(59th) and he is a massive defender in the OHL already. Great project and something their backend needs, some grit and net clearing ability.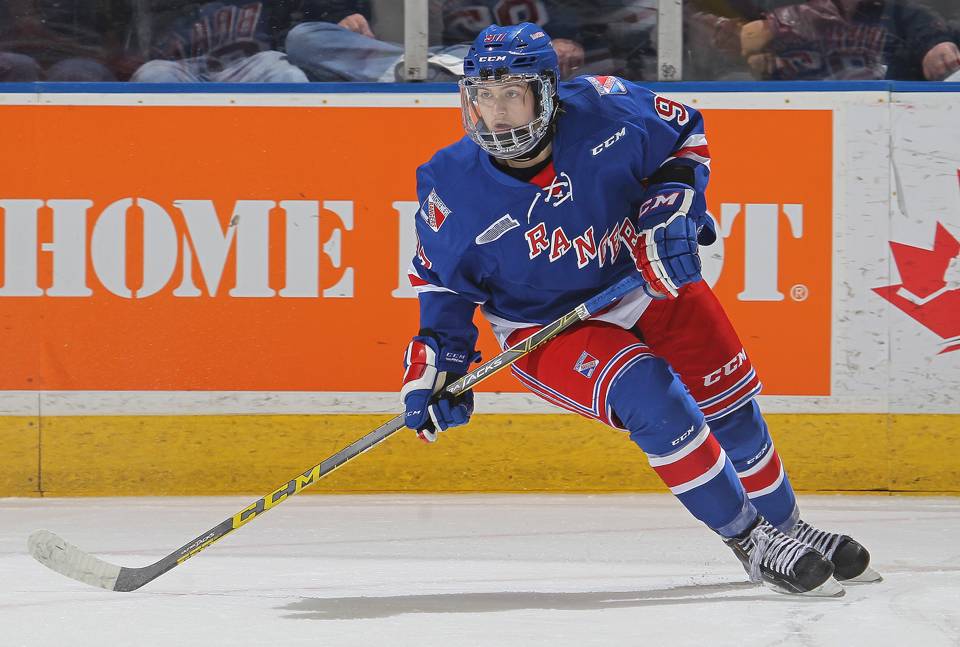 https://www.youtube.com/watch?v=TveGb5R_r04
7) Jeremy Bracco is yet another small, skilled forward and another Hunter 2nd rounder from 2015. He has graduated to the Toronto Marlies and is slowly playing better and getting more comfortable and confident against men. He likely will play in the NHL someday but will it be in Toronto?
Grade B- :
Has lots of skill but needs more time in the AHL next year.
8). Miro Altonen was a free agent signing from Finland who is starting to tear it up at the center postion playing with Johnson in the American Hockey League. He is smallish but fast. Aaltonen looks like he could play in the NHL as a 4th line center and might be able to move up to 3rd C, in time or due to injury. Has left NHL. no longer a prospect of note.
Grade B :
How do you complain about free? Update: Altonen has left the NHL and is unlikely to return to Toronto. Nothing ventured, nothing gained. Scratch from prospect list as of July 2018.
9) Andreas Borgman is a big, 22 year old NHL ready defender from Sweden and another Maple Leaf free agent signing. He has showed well in his audition in the NHL this year but the emergence of Travis Dermott pushed him back to the AHL. Why? Because the Leafs can and waiver considerations. Borgman should be in the NHL and looks like a future 5/6 defenseman.
Grade B :
Big defender who can hit and play in the NHL with a very good, booming shot and all for free.
https://www.youtube.com/watch?v=q-DqxTdJvEs
10) Fedor Gordeev is a hulking 6 ft 6 inch , 211 lb. defender getting scouts attention while playing in the OHL and has some saying he is a better prospect that Rasanen. He was taken in the 5th round so he could be a steal. Gordeev was a darkhorse who has earned some attention.
Grade B+ :
A big defender who may make the Maple Leaf top 5 defense core,drafted in the 5th round and coming on strong.
11) Joseph Woll is a big goaltender playing for Boston in college right now. He was a 3rd rounder in 2015 and played as the number one USA goalie in the World Juniors this winter. Woll is likely years away and hard to project as a number one Goalie in the NHL. Could easily become a solid NHL backup goalie though. At the juniors Woll did have a 5 to 1 blowout game making many question his number one NHL potential.
Grade C +:
Goalies are the hardest to read this early and also take the longest to develop. A project but at low risk in the 3rd round.
https://www.youtube.com/watch?v=2y4PnRiIp4w&feature=youtu.be
12) Tie! Center Adam Brooks and defenseman Andrew Nielsen are both from the WHL and are later picks going in the 4th round 2016 and the third round 2015 respectively. It is still too early to say which player is better or furthur along in their development since defenders always take longer to learn their game. While Nielsen may have skating and defensive concerns, Brooks hasn't exactly lit up the AHL the way Nielsen did scoring 14 goals in his first year. Both prospects need to go on slow cook and are long shots to ever play with The Toronto Maple Leafs. Nielsen likely has an NHL future but is it a top 5 defenseman with Toronto? Brooks on the other hand is a center and has little competition from within the organization, if he does develop over the next 2 years his character, leadership and position played could land him a job on 4th line.
Grade B- :
Projects with some potential who need at least one more year in the AHL. Leaf management stated apparently that " Nielsen is near NHL ready." at the Leafs camp in 2017.
13) Calle Rosen is a free agent signing from Sweden and a defender who is 23 playing in the AHL with the Toronto Marlies. Rosen is an 7/8th defender depth signing. There isn't much to get about excited in Rosen's game but he can skate.
Grade C:
Could still play in the NHL but is now a long shot.
We now enter the twilight zone: These prospects are projects who if properly developed may some day play in the NHL and if they do it will be all gravy.
14) Dymtro Timashov is yet another small, skilled winger who was taken in 5th round in 2015. He is currently in the AHL with the Marlies and needs at least one more year before he can play NHL. He is a possible injury fill player from the 5th round. Timashov is buried beneath depth from the likes of Johnson, Bracco, Grundstrom and Korshkov not to mention recently graduated first rounder Kasperi Kapanen.Timashov has shown well in the AHL playoffs and may be a rising prospect.
Grade C+
Most 5th rounders never play in the NHL. At least he has a shot somewhere in the future 32 team NHL.
15) Ian Scott was a 4th rounder in 2017 who plays goal on a bad WHL team. The good news is at least he sees lots of rubber and his individual play has been good.
Grade C+ :
Too early to tell, good potential on a weak team. Of all the players in the bottom 13, Scott still has some great potential and could be the sleeper. As of October 20 2018 Ian Scott was 10-1-1 with a .942 save percentage and is climbing the charts.
16) Frederick Gauthier is a big 4th line defensive center from the Nonnis era 2013. He has played some NHL games but it doesn't look good for him playing under Babcock. He has hit make or break time next camp.
Grade C- :
For a 17th overall pick who now has at best a 50/50 chance of getting 4th line next year or being dumped as an add on in a trade such as Rychel and Valiev were.
17) James Greenway taken in the 4th round, is a big 6ft 4 inch, 205 lb. defender in college right now, who can skate well for a man his size. He took part off this year off to deal with some personal issues. Take it for what you will but Craig Button on TSN called J Greenway " A steal !" shortly after the draft.
Grade C :
Still too early to tell and needs one more year of college play to properly assess. Potential is there for an NHL top 6 defender.
Pierre Engvall
18) Engvall is a 6ft 4 inch 200lb. LW from the 7th round in 2014. He is Swedish and currently playing effectively and scoring with the Toronto Marlies. He is only 21 and has been developing over in Sweden. He has good chance to make the NHL and be a 15 to 20 goal scorer.
Grade B: Once again Toronto may have found a gem in the 7th round.
19) Martin Dzerkals is.. you guessed it, a small, skilled right winger playing very little with the AHL Toronto Marlies. He is a 4th rounder from the 2015 draft who has drawn comparisons to a certain Detroit Hall of Famer , Pavel Datysuk. He may stand an outside chance with Babcock but he has a long way to go yet.
Grade C:
A 4th rounder who is a long shot to ever play in the NHL. The Leafs must decide whether to re sign him or let him return to Latvia potentially losing his rights.
Honourable mention: LW Vladislav Kara was taken in the 4th round in 2017 at the 124th pick. He is currently playing in the VHL. From Maple Leaf hotstove:
With an April 1998 birthdate, the 6'1, 187-pound Kara was passed over in last year's draft. He split the 2016-17 season between the VHL with Bars Kazan and the MHL with Irbis Kazan. In the MHL (the Russian junior league), he posted 11 goals and 20 points in 31 games and a further five points in seven playoff games.
Kara was unranked by all of the major scouting services.
Mark Hunter's Take
A big, strong winger that plays a two-way game and can handle pucks. He drives the net.



Departed : Winger Rychel and defenseman Valiev. Valiev slipped from " He is our best defensive prospect" to almost nowhere as Toronto's depth raced past him. Rychel is a borderline NHL 'er acquired for Scott Harrington. A former first rounder who wasn't going to play for Toronto. Gone to Montreal. Best of luck guys.
Numbers By Position Centers: 3
Wingers: 7
Defenseman : 8
Goalies: 2
Organizational Strength : Our wing position is now totally loaded and our defense also has good depth with at least one blue chip in Liljegren and Sandin plus some very interesting projects such as Rasanen, Durzi and Gordeev who have both size and grit something the Maple Leafs clearly need..
Organizational Weakness : At center Toronto has Miro Altonen(returned to play overseas), Adam Brooks and Frederick Gauthier but no top 9 talent in this critical position. Another need is a top 6 power forward. Toronto has plenty of speed and skill but need to beef up for the defense of teams like Tampa Bay and Boston.In the 2018 draft this weakness continued but the signing of Tavarres gave them time to fill that 4C hole as they would likely not be playing much anyway.
Needs some work : Goaltending is probably the most important position in hockey and as of yet neither Woll or Scott can be called a number one. Hunter likes to use later round picks on goalies, so taking one per draft late may work out as a longterm strategy since goalies take the longest to develop and are the hardest to read at the age of 18. GM Kyle Dubas added a late Goalie pick in
Zachary Bouthillier continuing a cautious trend of picking Goaltending picks late.
Toronto Maple Leaf organizational grade: B:
The Maple Leafs have now plundered their once bountiful prospect pool. As it stands right now, there are at least 10 NHL teams with a better prospect pool than the Maple Leafs. Toronto does have some future NHL top 9 forwards and potential top 4 to top 5 defenseman. The Maple Leafs have first round 2017 Timothy Liljegren and now first round pick 2018 Rasmus Sandin left over and have added some depth in most positions while drafting a few very promising projects such as Eemili Rasanen, Durzi and Fedor Gordeev as well. Toronto have an over-abundance on the wings and good overall team depth on defense. Their current center core is young in Mathews, Kadri and Nylander but center depth still needs some work. Goaltending is a huge question mark right now with no clear number one goalie in the current pool although that could change. It isn't time to panic and use a 2nd rounder on a goalie yet and the take 'em late and make 'em wait approach may still work out for Hunter and now Dubas. As such, Toronto will likely focus on finding a top 9 Center or a top 6 power forward at next year's draft in June 2019 .
Darkhorse rising fast : Pierre Engvall.